IMS Ltd is the IoT company that leverages the cutting edge technologies to ease the data-to-action processes of your projects. Whether you own a manufacturing plant or an a private dwelling we can provide you with power to monitor and control your assets. IoT provides you with Data collection, Storage and Retrieval in order to automate routine tasks while keeping an eye over the whole process. We connect Things to the Cloud to add value and efficiency to your work or living environment. 
What is the Internet of Things (IoT)?
Internet of Things, known as IoT, refers to billions of physical devices that connect to the internet via the cloud or other devices, allowing users access to manage the device based on their need. The cloud allows the devices to easily collect and share data. Some examples of IoT are:
Indoor Climate Control
Smart Buildings
Asset tracking
Environmental Monitoring
Smart Farming
Security Systems
How do you Manage IoT Devices?
IoT devices can be managed by displaying information of the state of your things (Eg: Environmental Temperature, Humidity, Water leakage, meters etc) via special sensors. With such information you will have the facility to remotely monitor and control such devices or "things". This is all possible using our services and smart phones, PC and tablets and an internet connection.
A smart designed IoT solution will lead to better resource management, keeping consumption to a minimum. IoT provides efficiency, savings, safety, convenience, comfort, peace of mind and a healthier life. IoT will become part of your daily life. By 2025, it is estimated that there will be more than to 21 billion IoT devices,  why not join now.
A new era for efficient and sustainable agriculture.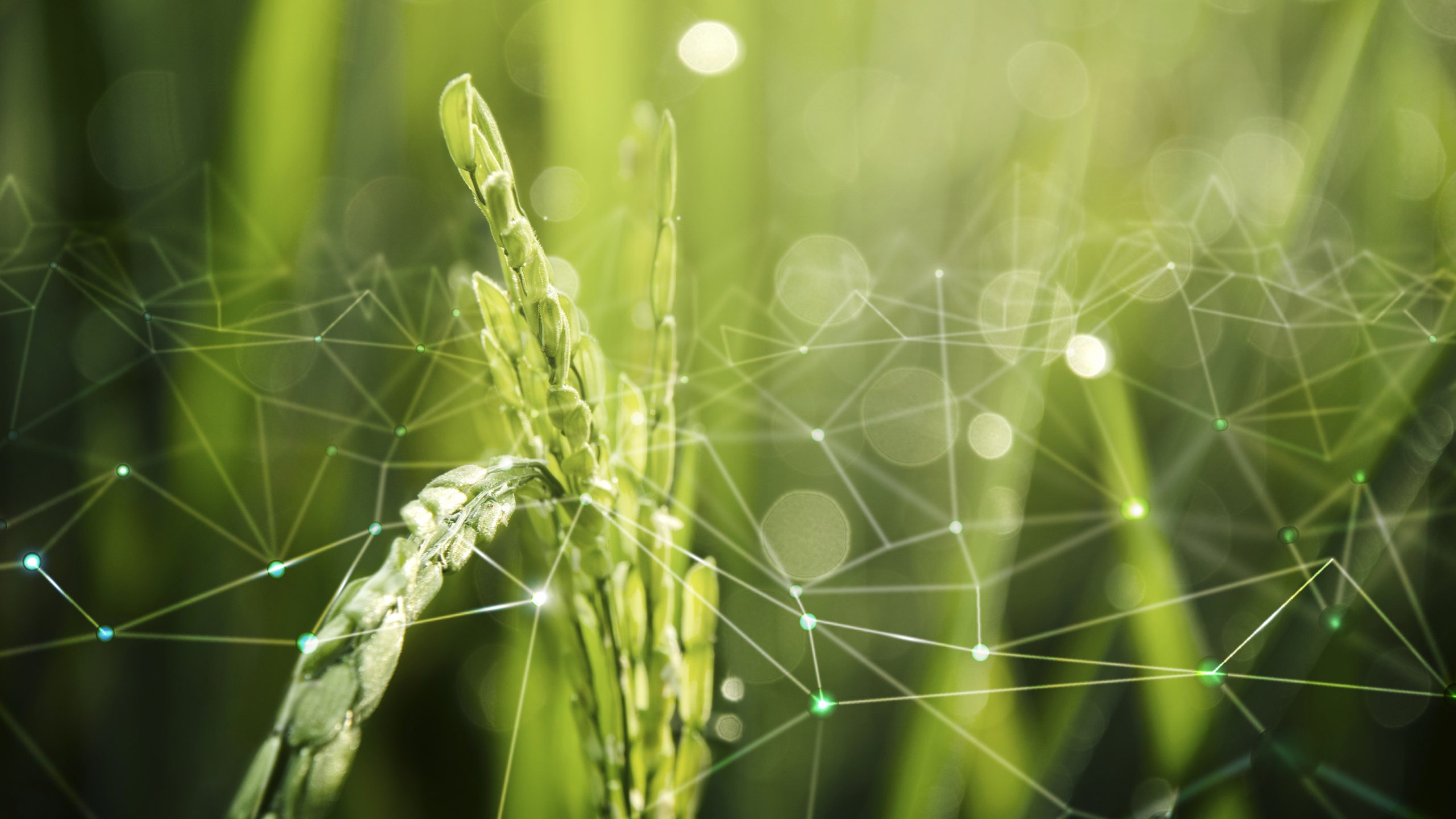 Over the past few years, the applications of massive IoT deployed in soil monitoring, for example, greenhouse, have accelerated the evolution of digital farming. The data collection of environmental factors such as temperature, humidity, soil content, wind speed, rainfall, nitrogen, phosphorus, and potassium has composed an important part in soil monitoring.
IoT in farming enables farmers to increase automation of vital farming processes, and manage them from anywhere with an internet connection. 
When used in conjunction with agri sensors, mapping, and other smart agriculture technologies, they can greatly increase the productivity of farmers' operations. For example, farmers can monitor their crop field from anywhere using IoT devices. With the help of various sensors, can administer appropriate inputs at variable rates, saving farmers both time and money.
Applications: 
Create optimal growing conditions for plants
Prevent and diagnose plant disease
Our system works with the LoraWAN Long-Range radio technology. Such technology covers a radius in Urban and City areas ranging between 3 to 10km between the sensors and the gateway. The gateway then send its data to the internet cloud service to reach on your device around the world.
Initially we discuss your requirements and your premises and identify the best solution. Our solution focus on your needs and your necessities. We then draft out a comprehensive list of outcomes attached with the required hardware to enable you reach your goals.
Senario 1 - Field Water Content
Basic Setup
Internet Connection
LoraWAN Gateway
Soil Moisture Sensors
Such setup would enable the farmer to remotely monitor soil water content using %. This setup would notify the farmers when the soil is to dry or too wet. 
Scenario 2 - Irrigation Automation using soil water content.
Automation Setup
Internet Connection
LoraWAN Gateway
Soil Moisture Sensors
Pump Control Actuators
Solenoid Valves
Using the above mentioned notifications we can instruct the pump to switch on and open selected solenoid valves to irrigate until the desired water content is reached.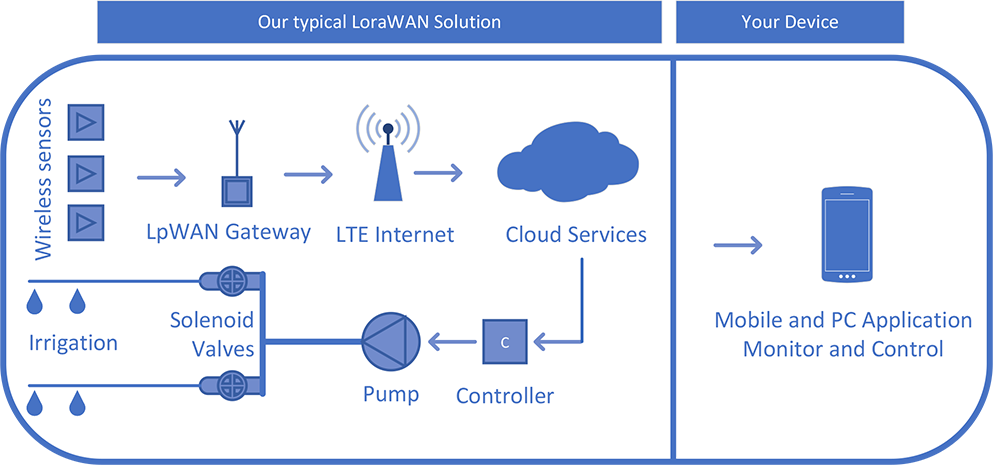 Control and Monitor your sea vessel.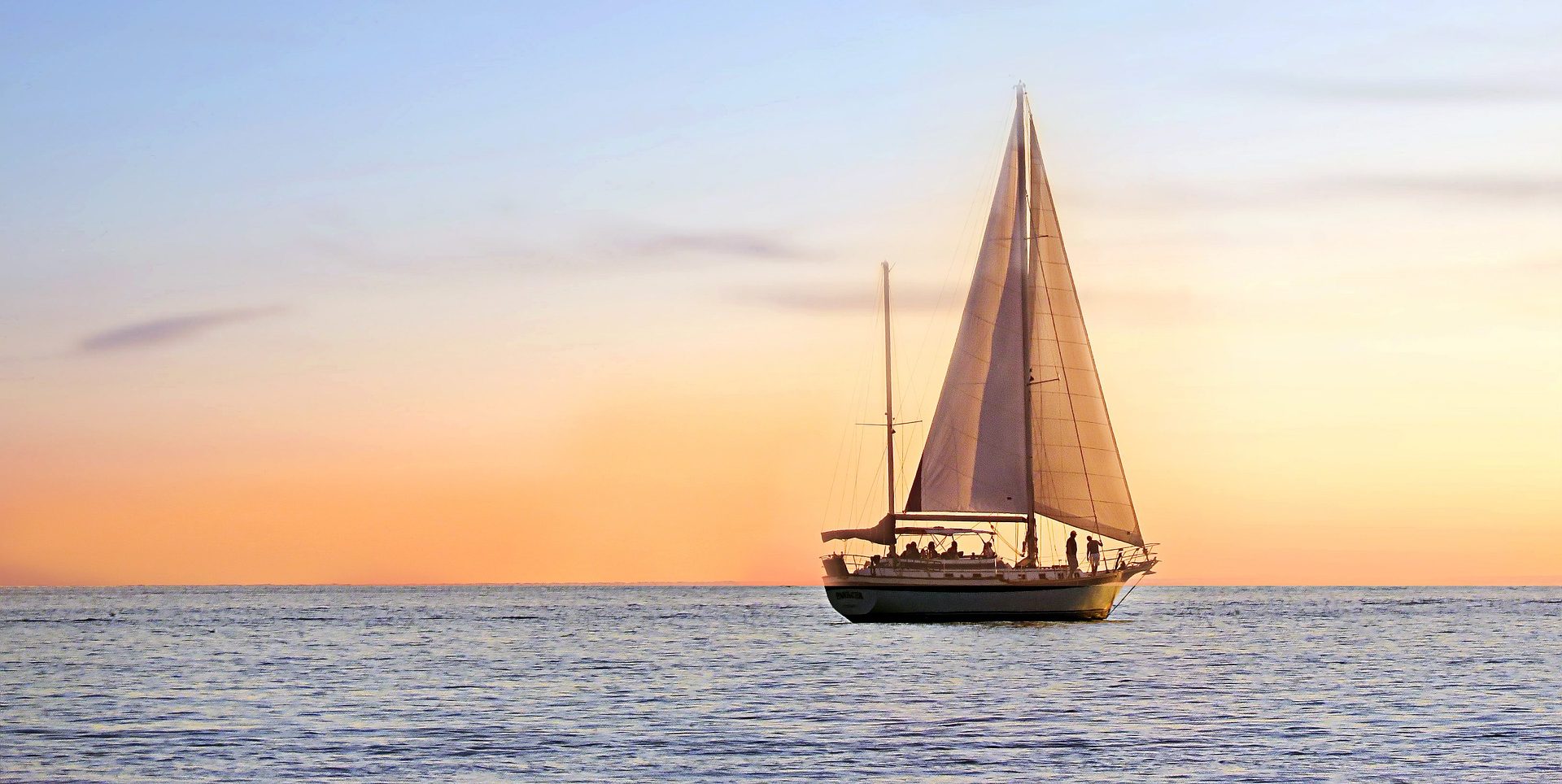 We're here to help you enjoy more time on your boat.  We want you be having a fun and relaxing time enjoying time with family and friends.
Our solutions provide remote wireless boat monitoring system that takes care of the issues that get in the way of a great day of sailing.  No more bad batteries, freezer breakdowns or worries another boatie has taken your power connection.
​You have more time enjoying yourself on the water. For boats in marinas or on moorings you can rest easy knowing the Boat is constantly monitored either on demand or via notification on your device.
Applications:
Monitor Bilge pump
Monitor Batteries
Monitor Shore Power
Monitor GPS Location
Intruder Detection
Monitor Refrigeration
Control Devices
Our system works with the LoraWAN Long-Range radio technology. Such technology covers a radius ranging between 3 to 10km between the sensors and the gateway. The gateway then send its data to the internet cloud service to reach on your device around the world.
Initially we discuss your requirements and identify the best solution. Our solution focus on your needs and your necessities. We then draft out a comprehensive list of outcomes attached with the required hardware to enable you reach your goals.
Typical Installation
• It can be installed on any boat
• No wiring required
• The system is configured on demand
• Number of sensors depending on your needs and 12V or 24V depending on the power supply available
• It can manage up to 4 electrical appliances
• Be able to check position via GPS Reading
Besides the peace of mind the system offers, one can also use the system a pre trip checklist by being able to deduct if you craft is ready to sail via vital information such as water leaks, battery status, turn on appliances and check fuel levels.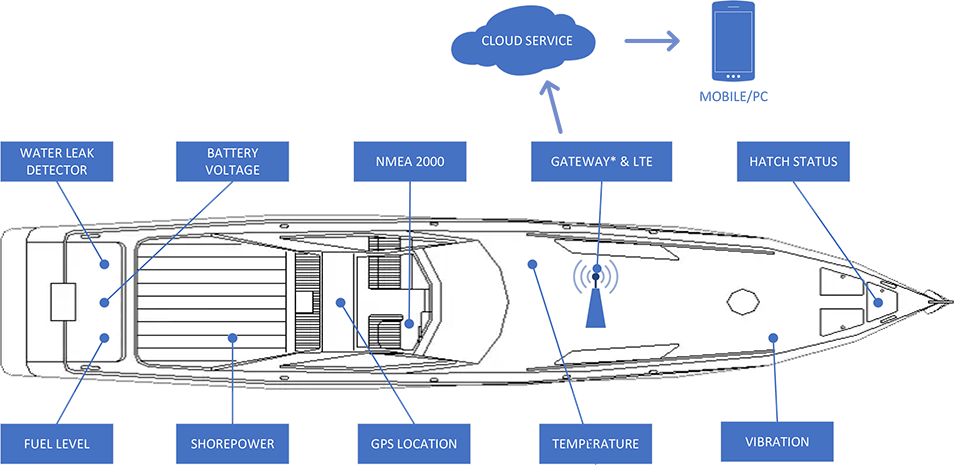 * Gateway and LTE connectivity is either via your onboard setup or it will automatically switch over to the marina installation.
A safe and eco-friendly environment for your premises.

Whether it is your workspace or your home our IoT solutions can provide you with an array of benefits which makes your life safer, easier and more comfortable.
When we think of the indoor working space or inside environmental monitoring, all sorts of images will come to mind, such as the meeting rooms, HVAC systems, filtration, and other electronic systems. However, it is the case that the office environment has often been ignored as factors that affect human activities and work performance.
In this smart working environment and smart office, you know exactly how to set up an effective atmosphere without even getting up. You can use the information of the beginning of the working hours and the readings of the PIR motion detector, through the light controlling device, it triggered to turn on the lights automatically when an employee comes into the office.
Smart office/home environmental monitoring solution provides you rich information that can help you take action. You just check in data periodically on the Cloud as you can see all the information there on your mobile/pc.
Applications:
Temperature/Humidity Monitoring
Lighting Adjustment
Monitor Motion and Presence
Air Quality Monitoring
Intruder Detection
Control Devices
Our system works with the LoraWAN Long-Range radio technology. Such technology covers a radius ranging between 3 to 10km between the sensors and the gateway. The gateway then send its data to the internet cloud service to reach on your device around the world.
Make use of the temperature, humidity, illuminance, and air quality information from a sensor, depending on the situations, you can control the HVAC to provide a comfortable working environment, so nobody has to breathe the stale office air and improve concentration at work.
Our smart office environmental monitoring solution provides you rich information that can help you take action. You just check in data periodically on the Cloud as you can see a quick summary of the current conditions in the office. If there's an issue, an alert would pop up and you would know that there's a need for you to take action... unless our automation would take care of it autonomously.
Typical Installation
It's easy to deploy in any facilities, such as smart buildings, museums, libraries
It's an important component in the Smart Office Solution for environmental impact assessments
Monitor and manage temperature and humidity levels across the offices and optimize conditions for your well-being and comfort
Make data-based decisions to optimize the lighting system by utilizing natural light to auto deliver the right light at the right time.
You can predict meeting room occupancy in the office, which saves you time and improve efficiency and detect intrusion
Keep an eye on the air pollutants for ensuring a natural Environment. Effective air monitoring can provide an optimal workspace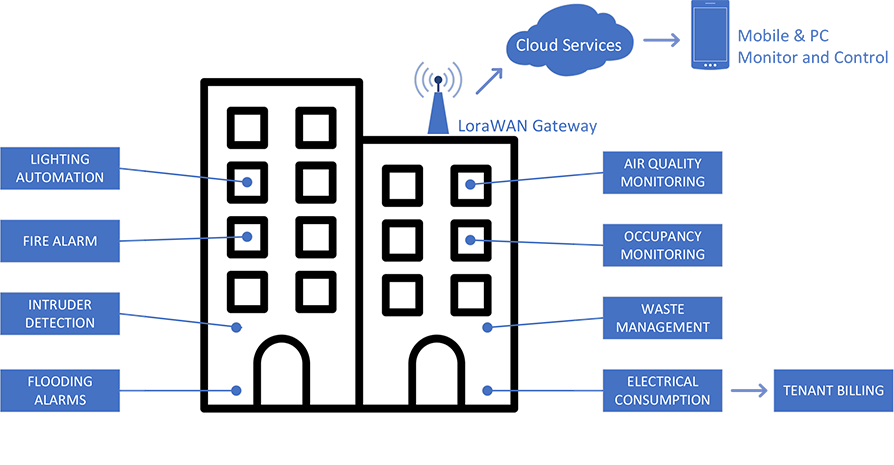 Efficient and Cost Effective Consumption Monitoring.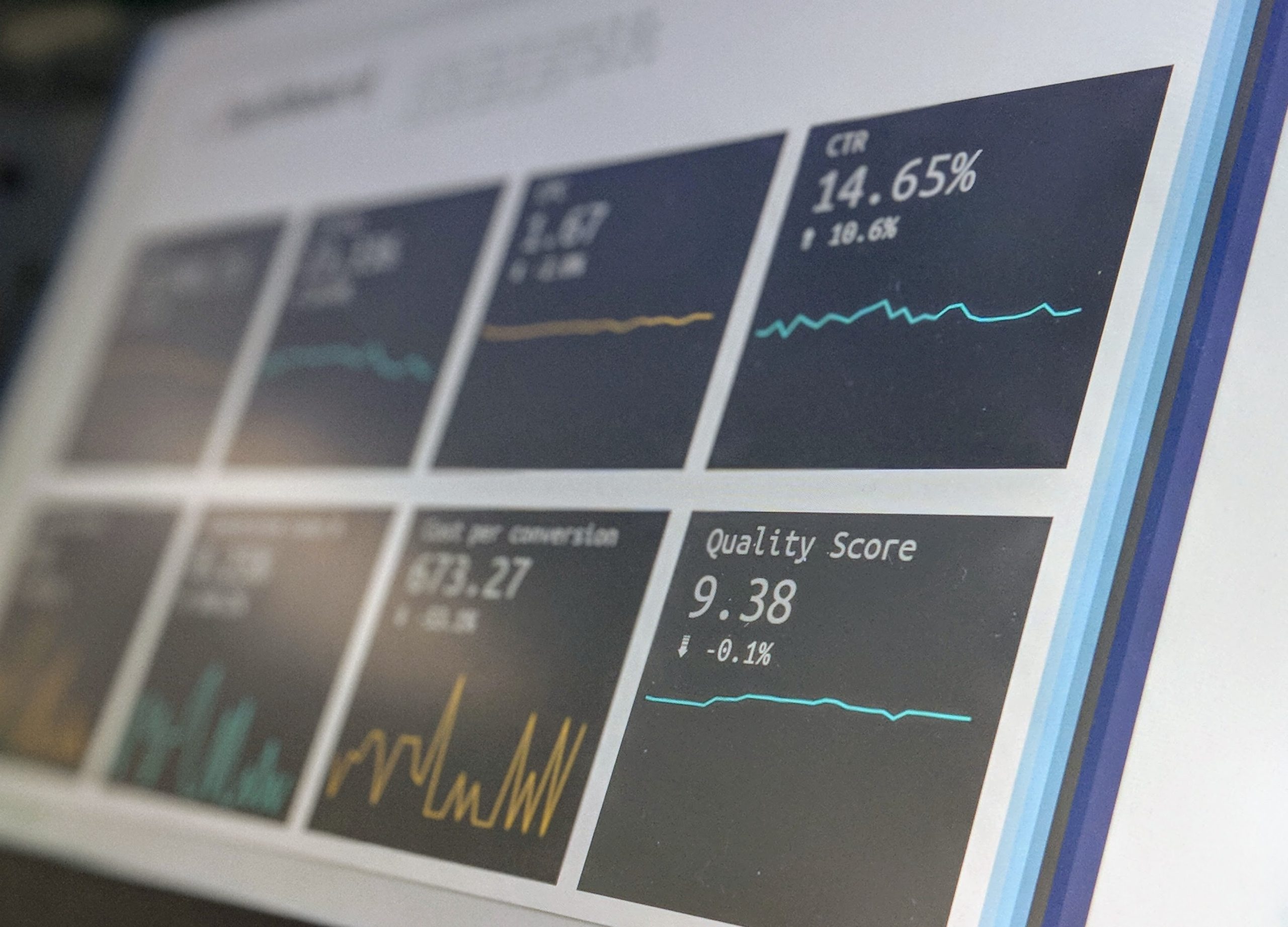 Traditionally being a part of the electrical grid infrastructure, a smart meter is an electronic device that allows for remote monitoring and recording of energy consumption. However, in the age of IoT and IoT platforms, standalone smart meters give way to more advanced and multi-purpose smart metering solutions. These solutions offer a broader range of remote monitoring and alerting capabilities as well as provide powerful data analytics tools to help companies and individual users optimize their energy, water, gas, or fuel consumption. A typical challenge for companies implementing smart meters is how to integrate them within their infrastructure and set up custom-tailored smart metering use cases. Not only will you be able to collect data from your diverse smart meters in a centralized way, but also we can set up custom visualization dashboards, configure user alerts and notifications, and feed the collected data into other applications or data stores. Another critical advantage is the cost of smart metering implementation. Using an IoT platform allows you to have all the necessary functionality right away and focus on building particular smart metering use cases instead, saving time and avoiding the risks associated with in-house IoT development.
Applications: 
Collect data from smart meters using different connectivity methods
Visualize the collected data on a custom dashboard
Analyse incoming smart meter data to derive actionable insights
Store data for reporting and historical analysis
Feed processed smart metering data into applications for accounting and billing
Our system works with the LoraWAN Long-Range radio technology. Such technology covers a radius ranging between 3 to 10km between the sensors and the gateway. The gateway then send its data to the internet cloud service to reach on your device around the world.
Smart metering enables us to monitor devices around your homes or workplace. Know your consumption habits leads to better resource management and plan ahead. Having your utilities monitored also ensure safety due to detecting leakages at an early stage and issue alarms for abnormally high consumption.  
Monitor and audit your utility bills 
Bill individual tenants for their electricity, water and gas consumption
Know what volume is remaining in your LPG/Propane tank
Keep a running log of your water storage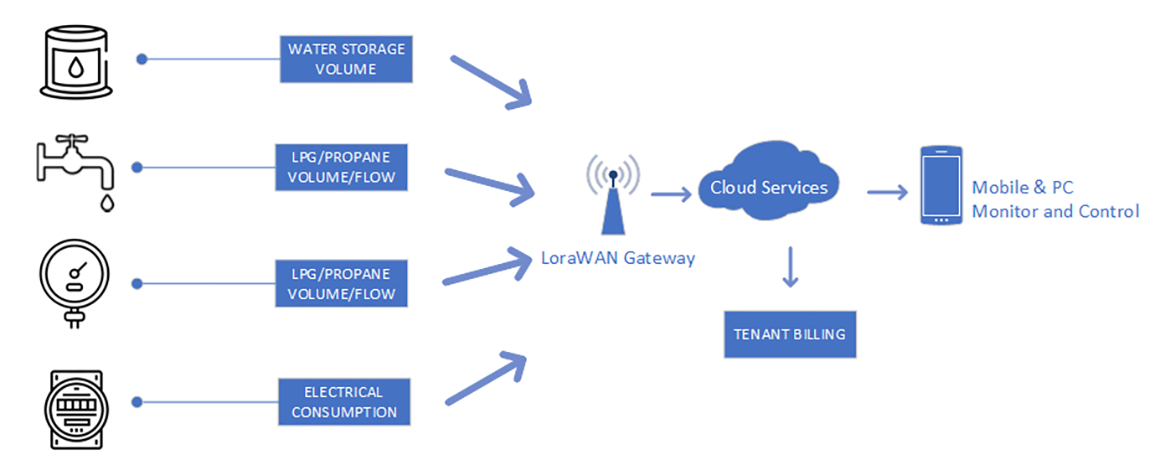 Running an efficient city.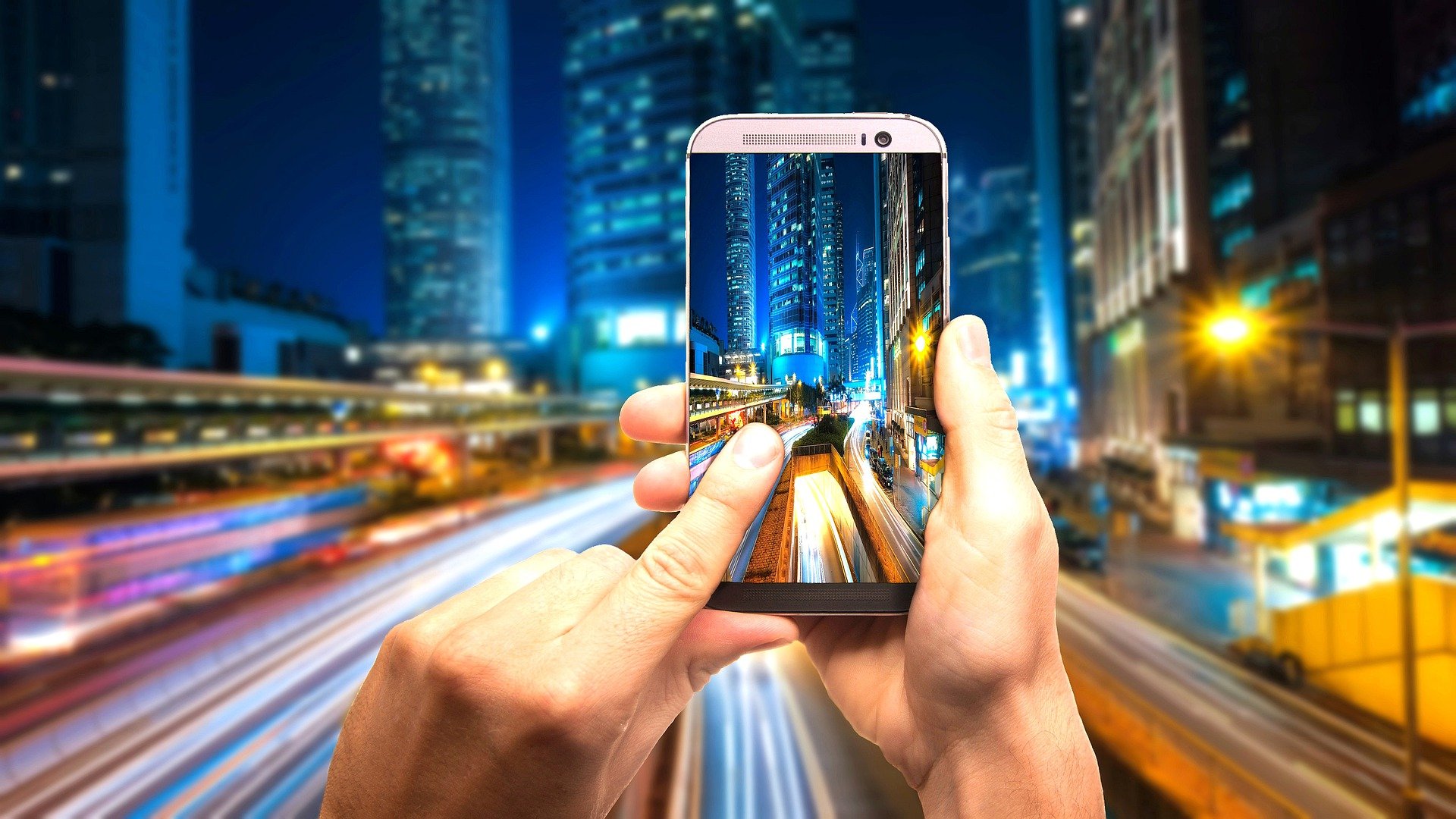 Managing a city entails diverse factors and cross organisation communication. A smart enabled city would facilitate the sharing of resource availability and enables data sharing and collection. With such information in hand one could take informed decisions for the betterment and smoother operation of  the community. Factors such as parking availability, pollution monitoring, air quality, street lighting automation, information displays, all benefit for an efficient, sustainable, healthy and safe environment.
With the availability of this data at hand - different organisations can direct their efforts toward the finetuning of their processes, making them more efficient and cost conscious. Efficiency will also lead to immediate problem solving and timely maintenance.
Smart City visions need to be holistic, pluralistic and citizen-centric, focusing on improving services and solving pressing urban issues.
Investing in technology for Smart Cities improves citizens' quality of life.
Applications: 
Outdoor air quality, pollution
Indoor air quality
Noise levels
Water quality
Floods, spills and leaks
Parks and green areas
Traffic and mobility
Pedestrians traffic
Social distance and capacity control
Parking spaces
Lighting
Buildings
Waste management
Garbage trucks and containers
Public service vehicles
Public transport capacity
LPG and other distribution Services
Manhole and Service Access Monitoring
Structural Health Monitoring
A city comprises of a huge amount of elements that has a direct impact on the quality of life. Managing such elements requires a means of monitoring and automating their function.
Using our ecosystem helps the administrators get a better picture of the status of the different components that make your city run smoothly and efficiently. Sensors deployed around the city will be measuring precise information which is collected by a central gateway which will feed a cloud service to reach the administrative teams to better their processes. The data collected will display any inefficiencies that are either acted upon automatically or by the administrators. This in turn will enable more efficient running of the daily city routine and improve the citizens quality of life. Such vast data collected from different cities can be viewed and compared to further increase the overall efficiency of a country. "Big Data" allows the central government to improve policy making by taking informed decisions based upon the collected dataset. Such data contributes towards the creation of  a new green economy and add the benefit of creating accountability where it matters.  
Citizens engage with smart city ecosystems in various ways using smartphones and mobile devices and connected cars and homes. Pairing devices and data with a city's physical infrastructure and services can cut costs and improve sustainability.
Communities can improve energy distribution, streamline trash collection, decrease traffic congestion, and improve air quality with help from the IoT.
Together, these smart city technologies are optimizing infrastructure, mobility, public services, and utilities.
Example:
Connected traffic lights receive data from pedestrian sensors and traffic flow, adjusting light cadence and timing to respond to real-time traffic, reducing road congestion.
Connected cars can communicate with  electric vehicle (EV)charging docks and direct drivers to the nearest available spot.
Smart garbage cans automatically send data to waste management companies and schedule pick-up as needed versus a pre-planned schedule.
And citizens' smartphone becomes their mobile driver's license and ID card with digital credentials, which speeds and simplifies access to the city and local government services.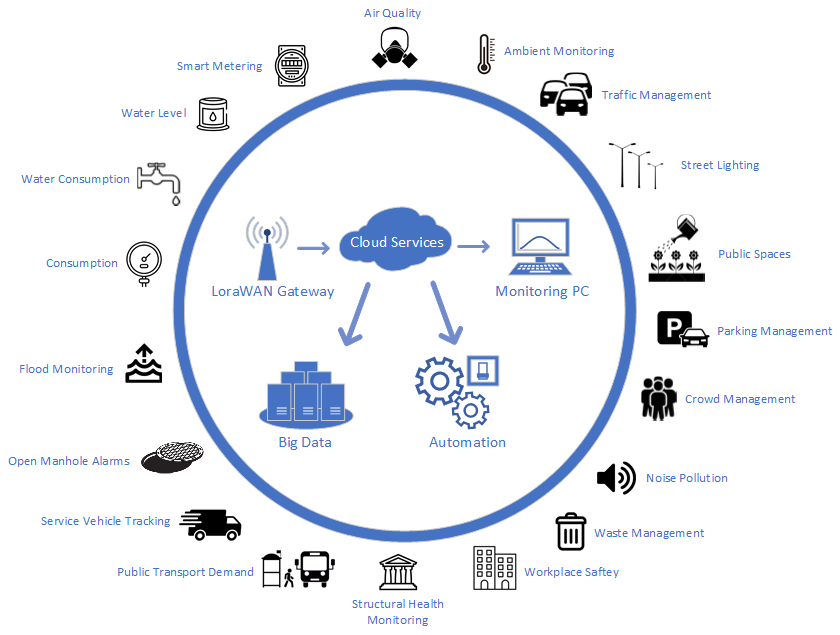 Keep your assets under control.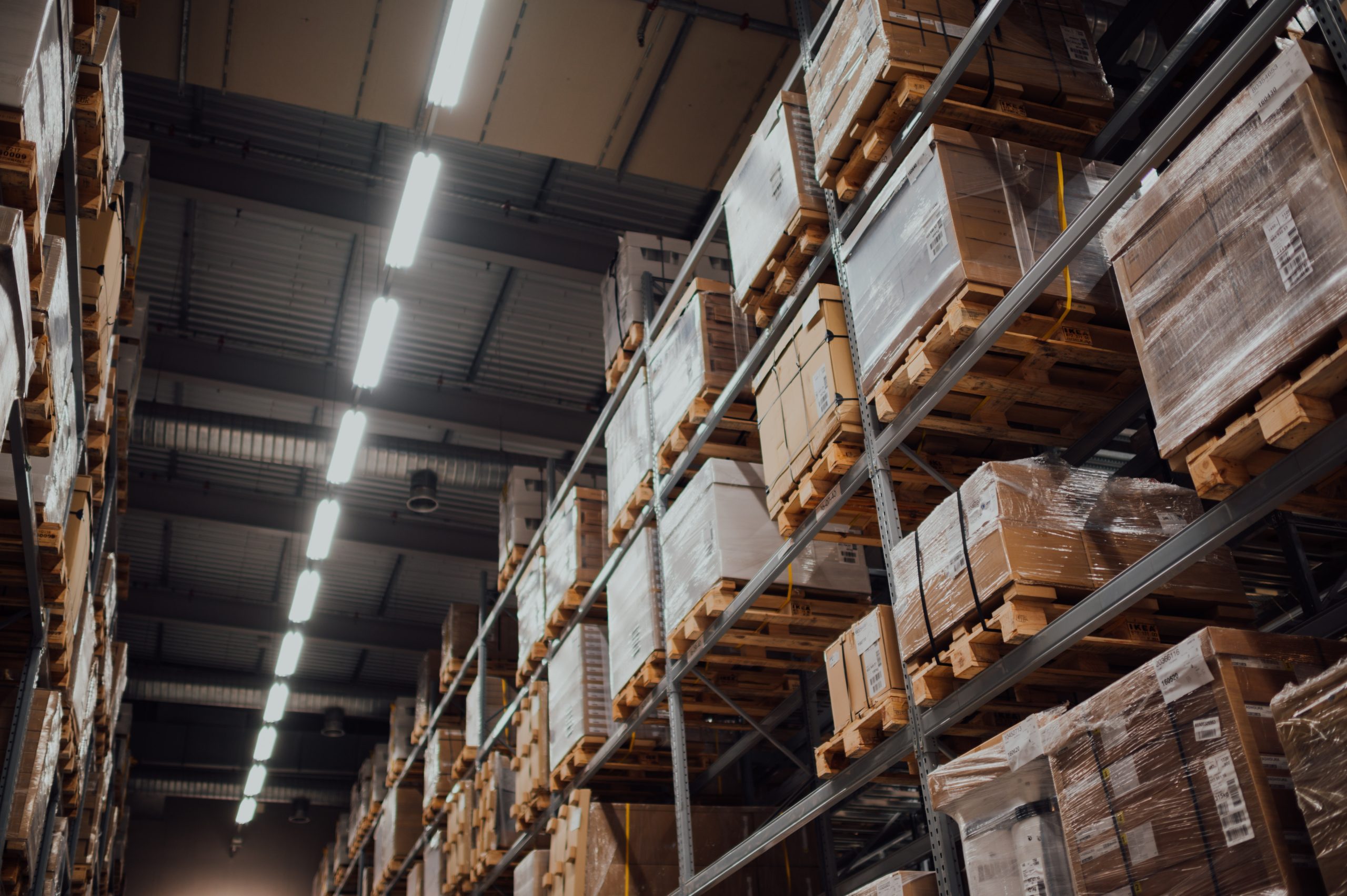 The smart-tracking solution allows companies to track and manage the assets that power any business.
The tracking of goods and production assets through technology solutions based on IoT provides great results in cost savings and lower losses for companies.
Tracking and protecting valuable non-powered assets is a great challenge for many industries.
The market demands the most robust and accurate battery-powered GPS trackers to provide location and movement history, utilization reports, preventative maintenance monitoring, misuse or abuse alerts, and more applications with a single and easy tool.
Applications: 
Construction: machinery, tools…
Logistics platforms: airports, ports, stations…
Pharma transport: cold chain shipping
Mining, oil and gas
Waste management
Sensors are installed in various key locations through out the premises keeping log of your assets location and other vital parameters (example Temperature) at any point in time. 
Technologies such as Bluetooth, RFID, NFC, Zigbee, GPS and WiFi are used. Data from these sensors is sent to a central gateway which, in-turn, is computed and sent to the cloud to enable the monitoring from a mobile device or pc. 
Such technologies can also be used to monitor equipment such as key tools, valuables, perishable goods, such as pharmaceuticals, fresh produce and hazardous materials.
Typical Industry sectors requiring asset management:
Manufacturing companies
Logistics Operators
Warehousing Operators
Security Service Companies
Importers/Exporters
Healthcare Operators 
Pharmaceutical Companies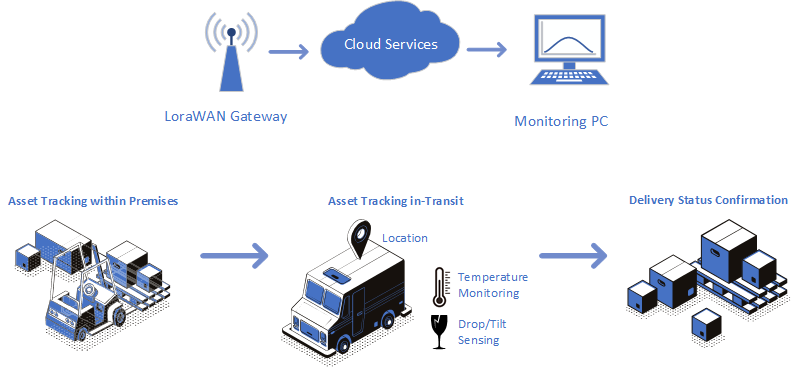 Being part of the next industrial revolution.

Modern Industry's main challenge is to improve its competitiveness, optimizing the production processes with efficient and scalable solutions that allow the improvement of the operational efficiency and compliance with the norm.
Smart Factories bring a new set of technologies to enable the Internet of Things (IoT) and more importantly the Industrial Internet of Things (IIoT). Our solutions provide multiple advantages to enable applications that empower large industrial segments to adapt and respond with reduced operational costs, worker safety and environment & social governance to remain relevant and profitable in a quickly digitizing world. Digitizing and capturing of data are part of today's industrial operations and allows machine learning to make decisions without human involvement. Industry 4.0 technologies ensure cost effectiveness and provide more data to boost efficiency, productivity and safety.
Applications: 
Automated data collection of manufacturing data.
Real-time monitoring of the processes to optimize and improve operational effectiveness (OEE).
Interior/exterior geolocalisation of assets, allowing control of the location in the warehouses and in-process products, to minimize downtime.
Mobile and fixed forklift weighing, integrated with truck weighting & plates recognition.
Pallets and forklift traceability. 
Quality/production control through computer vision.
Integration with management tools (ERP, SGA…) and data analysis (Business Intelligence, BigData, Machine Learning etc).
Utilization of standard communication protocols
Deep knowledge and understanding of the different productive areas: manufacturing, logistics and services
Modern production environments demand control over entire manufacturing process. With the integration of existent automations systems and our IoT technologies one can facilitate and more precise control over the automation process and monitor raw materials consumption, spillage, defects and the overall stock situation. 
Our solution brings data, AI, and machine learning together to maximize process efficiency through AI, time-series, and analytics.
IoT Industrial integration improves the data reporting of key performance indicators, which in-turn lead to better decisions to improve production efficiency and goals.
Our IoT Solutions will help improve:
Monitoring of Manufacturing Process Phase
Condition Monitoring of Machinery
Preventive Maintenance through data insights
Asset Detail Logging
Alert Resolution